Two hipsters walk into a bar, and one asks the other if she'd like a drink. Not a joke; it happened in 1992 on my first date with the guy who became my husband. What made the bar unique was the 5-foot sculpture of a nose in the second-floor window of the trattoria.
If it had been a young couple in 2012, the gal might have snapped a picture and pinned it on Pinterest.
Ouch, my lizard brain is aching already.
Am I a Pinterest slacker? Two weeks ago I was, and that is precisely the label I feared. So I gave it a whirl.
Here is the first gem I discovered: You don't even need an account to grab a beautiful picture on Pinterest and repin it somewhere else on the web.
My highest recommendation is go to the site and look around. Click an image, copy the embed code, and paste it into a new post on your blog. Easy and instant–see the evidence below.
Intriguing? That is exactly the feeling you are supposed to get. Or, any number of other emotional reactions, all brought to life by gazing at images that fire up your neurons.
This is a photo of a bridge in Paris, where lovers leave their padlocks before tossing the keys into the river below.
Does it feel like the complete spa experience for your eyes, a digital scrapbook that draws you in?
Which is why Pinterest is growing at hyperkinetic speed, like kudzu, around the world. (Pronounced could-zoo, kudzu is one of the 4 fastest growing plants on the planet, spreading up to 1 foot a day. Unless you live on the moon, kudzu can spread from your digs and invade everything. Like Pinterest.)
For its many young female adherents, Pinterest has been called "seriously addicting" in the way unlimited texting is addicting (to some).
Pinterest has over 12 million unique users per month, and more than 2 million a day. In fact, comScore reported that it passed the 10 million mark faster than any other independent site in history.
As of January 2012, Shareaholic broke the news that Pinterest sent more referral traffic to websites than Google+, YouTube, Reddit, and LinkedIn combined. In fact, it was nearly neck-in-neck with the 3.6% of total online traffic that Twitter sent that month. According to Sam Delijani, owner of a small jewelry company that sells engagement rings, "Pinterest has generated 6% of our total referrals, whereas Facebook generated 2% of our total referrals in the same month."
Online bulletin boards offer images that you love, and a range of personal inspiration and aspiration
Images on Pinterest are organized like a collage, on bulletin boards illustrating themes. For this reason, certain industries and brands work better with the site than others. It is well suited for fashion, interior design, gardening, sports, cars, fitness, crafts, travelogues and so forth.
Think how you can illustrate your brand, or think about the visuals that inspire you. This is similar to what advertising agencies used to do on a website. On Pinterest you offer up images that your customers or friends will love, and they can offer up their own images on your online bulletin boards, simply by "repinning" their pictures.
For example, my Japanese friend Ai Hamamoto repinned a video of paper cutting, a traditional oriental art. (I embed it below from YouTube, since I couldn't get the repinned video to work in WordPress!)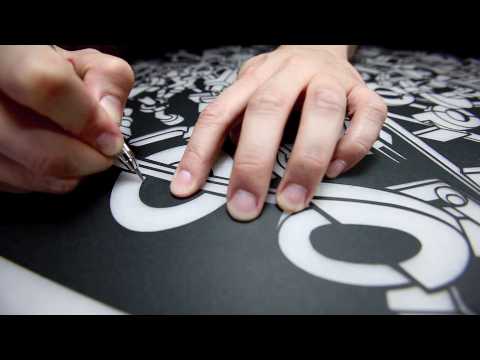 Another example: The online men's clothing line Bonobos does not officially have a presence on Pinterest, but one lady pins up pictures of the clothing that "she would like to see her boyfriend wearing." How sweet, a girlfriend who is aspirationally improving his outerwear!
Finding "me time" on Pinterest: The 9 bulletin boards of an addicted pinterest user
Do you recall I told you to get yourself a whole bunch of new friends, folks who are different than you?
Meet Michelle Zaccagnino. She is 22 years old and has 9 bulletin boards on Pinterest with 979 pins. With millions more like her, she is the reason that Pinterest is blowing past others.
I asked Michelle for the overview.
Mojo40:  How much time do you spend on it each day?
MZ: I'm very sporadic. I wouldn't say I'm on it every day, but for me at least, it is very addicting.  If I can't sleep at night, I'll pin for a few hours because I have nothing else going on. In an entire week, maybe I am on it for 5 to 10 hours.
Mojo40: How do I find you and your boards?
MZ: I'm using a very different username than my regular name. (It's actually a nickname.) I don't generally search for my friends on the site; Pinterest is about "me time," where I reflect on what I personally like. I am not trying to get everyone to be involved in my interests. Facebook is for finding your friends, connecting and chatting. Pinterest is not necessarily directed towards anyone. You can tag someone within the pin (by adding an @ sign in front of their name), but it is really a personal sandbox.
Mojo40: Are there any brands that you particularly like and view on Pinterest?
MZ: Chanel. I repin every Chanel thing I see, onto my own boards. I do a lot less talking about my own pins, and I do a lot more repinning of what I see from someone else's boards.
Mojo40: How many of your friends are on it?
MZ: To be honest, my best friend just showed me Pinterest in December 2011. My other best friend has it, too. I am not sure how many among all my friends use the site, but my two best friends definitely do.
Mojo40: Do you know any guys on it? I have read females make up 68% of the global audience and 85% of activity. (Mashable stated that 97% of Pinterest's Facebook fans are female.)
MZ: One guy I went to high school with has it. He is a few years older, but I see he doesn't really use it that often. (Note: A few guys that this blogger went to high school with also use it. See Ken Wyatt's photo from his trip to Dubai, or John Beilenson's Be bOLD board.)
Mojo40: Do you share other people's pins to your Facebook or Twitter accounts?
MZ: It gives you the option to link your Facebook and Pinterest together and I chose not to. I don't have a Twitter account, and in general, I don't even add comments. I don't necessarily want people to say, "Oh Michelle has a Pinterest account." I associate Facebook with a stalker site. If you need to find out something about someone, you go to their Facebook account. Pinterest is very different and it is not about connecting with anyone there.
Mojo40: Have you answered any brand's invitations to pin your pictures on their boards?
MZ: No.
How Accenture uses Pinterest for career visibility
Here are two comprehensive blog posts on how to use Pinterest for your business by Beth Hayden and by Debbie Hemley. A much briefer tour of small business strategies is on the Fox Small Business Center site.
Accenture's strategic use of Pinterest impressed me by showing higher-level thinking. I got a tickler to my Inbox one day from their US Diversity & Inclusion recruitment committee. I just love the way they have set up Pinterest boards for Women at Accenture, Research & Insights, and Leadership.
It's a very grown-up way to approach a fun tool and generate enthusiasm for women like us, who are struggling and overcoming obstacles on our path. As the cliche goes, you can't have it all, but you are indeed a leader for trying.
Ready to get your Pinterest account going?
If you think this site is worth exploring further, go ahead and request an invite. Within a day or so, you will get an email with a link to set up your account. The process is simple to follow, with only one tricky part, and they have solved that by including a 47-second video showing you how to add the PinIt icon to your toolbar in Mozilla.
Be sure to fill out your profile fully, and strategically include details of yourself or your brand in the box. (The Profile page is tucked under your account, on the right-hand side.) Beth Hayden offers great tips to folks who are starting out; request her 5 Stupid Mistakes To Avoid If You Want To Make Money With Pinterest article here.
Mojo Moves
Go to http://www.pinterest.com just to enjoy the visual VIP experience. Click on one photo you love, grab the embed code, and add it into your next blog post.
If you are intrigued to try Pinterest for fun, create an account for yourself by getting invited. Then, go back and fill in your profile and set up some boards. If you are the experimental type, see Wendy Hanlan's cute trick for making a creative graphic image to pin.
If you work with a brand, walk down to the marketing team's war room and start a casual discussion about what they are doing on Pinterest. Listen and throw some ideas back and forth (after you have spent time investigating and researching).
Okay, hands out of your pockets, let me know what you have found from digging in Pinterest, in the comments.