Back in the day, some Dads explained dating, sex and responsible behavior to their sons. Or, a young guy would get advice from his schoolyard buddies re how to ask out a girl, how to deal with rejection, or how to get his parents' permission to borrow the car. Perhaps if the kid could not summon up the bravery to discuss these topics with peers or parents, instead he'd consult a guy's magazine.
But that has changed.
Trust me, I know. My thirteen year old gets all kinds of necessary advice from Woody via Woody'sGamerTag, which is the YouTube channel of this helpful dude who offers advice on Mail Mondays. Its metrics:
Nearly 800,000 subscribers
More than 150,000,000 views
1,200+ videos covering every conceivable concern of adolescent boys, from fathers to failure.
"He knows so much," is the way my son explains it.
Since I spent several hours listening together, I understand exactly what he likes about getting human advice, from a humanized brand, on a much-needed topic on YouTube.
Woody's Gamertag YouTube channel has become the go-to place for the straight scoop on intimate relationships, questions about noise coming from the bedroom next door, dating and marriage, propriety, responsibility and growing up for the 13 to 22 year old set. Advice without shame or embarrassment, wrapped up in one good Call of Duty video perfectly suited for an iPad or desktop screen.
Say what? Call of Duty?
You read that right. As my hero listens to this 39-year-old married man give advice to his adolescent audience, the visual track is a non-stop shooting game. Just in case someone is looking over a youngster's shoulder, he can be wearing his headphones and learning something about life while the nearby onlooker haplessly thinks he is gaming. Incredible game play without bone-headed mistakes. Paired with readers' questions about testicular cancer or whether that cute girl (who happens to be your bud's secret crush) is fair game or not, mailed to Woody and answered aloud by him.
And it garners hundreds of thousands of views, each and every week.
Making a living from a cross platform social media strategy, and capturing the market segment for the later-born Millenials
Woody makes a living doing this. He has coordinated the central content–weekly videos containing embedded advertising (called pre-rolls)–with messaging on other social media platforms, items for sale, and the monetization of eyeballs through paid product placement or ads. (He also posts videos with product reviews, event guides for gamers, a visual tour of his home, a series on microwaving things you are not supposed to, et cetera.) The text below is pulled straight from the tags on his channel.
Do you see how you can buy T-shirts from Woody, like his page, follow him on twitter, check him out on Google+ or Tumblr … and with a cross platform strategy, Woody serves as the breadwinner for his 21st century family?
Let's change gears now and look at a second case study.
How H&R Block spent $160,000 over the course of 12 weeks and captured huge media attention plus market share from their competitors
What can you do if your brand is considered "old" like an Oldsmobile, or even worse, is unknown? This was the problem that H&R Block faced.
If you are over 40, the name of this tax preparation service might be tucked away in the recesses of your memory, but for Millenials and those in the 18-34 demographic, it isn't tucked anywhere.
As Scott Gulbransen, Director of Social Media at H&R Block explained, almost half of their potential customer base is under the age of 35. This cohort–the "connected generation"– gets their information from The Colbert Report, not a newspaper.  42% of them make purchase decisions based upon online recommendations. They have an average of 350 friends online, and 54% used social media to buy or recommend a service or product in the last 12 months.
In this demographic, tax preparation is accomplished with TurboTax (or similar software) from the comfort of home. This change in consumer behavior caused H&R Block's business to plummet over the years. A brand refresh was needed, and the best way to achieve it involved a cross platform social media campaign that made it cool to be associated with H&R Block.
They developed a brilliant social media strategy and executed it superbly. The proof is evident as it earned:
256 million media impressions
coverage by FoxNews, Forbes, Bloomberg TV, The Drudge Report, BusinessInsider, blogs and other online magazines
the hearts of the younger consumer, which is exactly the group they targeted, and
a significant gain in market share and profits.
The solution: goofy videos, connecting to a worthwhile cause, and utilizing a content strategy that makes the brand relevant and engaging Under Mr. Gulbransen's capable direction, the marketing team came up with an idea that was somewhat kitschy and joking. They partnered with the American Mustache Institute, conceiving of a nearly ridiculous piece of legislation called the STACHE Act. Outlined in a white paper and videos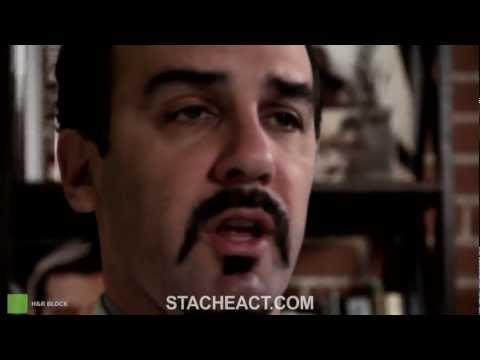 that were hosted on multiple sites, the STACHE Act called for an equitable $250 tax deduction for facial hair grooming supplies that would help channel money back into the hands of consumers, and thereby enable Americans with facial hair everywhere to do their part to stimulate the economy.
In addition to advocating a believe-it-or-not silly piece of legislation, they also organized a live (yes, it did take place in the streets of our country's capital city) Million Mustache March on Washington DC, to push for passage of the legislation. Although there were only 250 participants in the march, once again, it caught the eye of media moguls all over the internet.
Coordinating the events online and offline, with a charitable cause
They also wanted to find a social cause that H&R Block could support, to draw on the good will that celebrities naturally have being associated with philanthropy. The designated cause became Millions From One, which sells bracelets for $10 and aims to provide clean drinking water for millions of impoverished people around the globe.
Social media campaign uses repeated endorsements to keep the message fresh
The social media campaign kicked off on President's Day 2012. Anytime someone (like a celebrity or politician) with a mustache did something, the social media team would comment on it digitally. John Oates, Ellie Kemper, Jason Falls, Christina Bennett and other paparazzi did videos for H&R Block to help push the STACHE Act and the case for clean drinking water.
They also used Facebook to tap into that audience's natural affinity for the next weird and wonderful thing.
More than 50,000 fans went to a page and used the embedded app designed to draw a mustache on a picture. Then, fans posted a mustachioed version of their mug shot to their own Facebook accounts.
Talk about out of the box thinking! This audacious media plan was new territory for the tax prep firm, akin to what Maurice Sendak did for children's literature when he crafted Where The Wild Things Are. H&R Block sought to go where no tax service had ever tread, or would ever consider treading, before social media showed how to whip up engagement with weird, humorous content.
Scott Gulbransen sums it up with this equation: Humor + Content = Magic. It certainly did equal magic in their case, as they achieved a huge boost in market share and new customers.
Mojo Moves
What do you think of these two examples of video in social media campaigns? Got other good ones? Please share below.
MuCash
lets you make donations quicky in increments as small as a single penny. By leaving a small donation every time you find something of value on Mojo40, you can help me (Diane) keep creating content like this for you to enjoy.